School Visits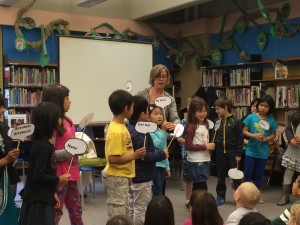 Caroline Adderson has taught writing for over a decade in the Simon Fraser University's Writing and Publishing program. She has been on the faculty of SFU's Writer's Studio, UBC's Creative Writing Master's Program, Booming Ground, Wired Writing at the Banff Centre for the Arts, the Victoria School of Writing and the University of Guelph. She is an experienced workshop presenter to readers and writers of all ages.
Preschool
Caroline's Bookmaking for Parents and Kids workshop was developed for Vancouver Public Library and Richmond Public Library.  During this two-part workshop Caroline guides parents and kids through the process of immortalizing their own adventures in a simple story.  In part two, a professional illustrator shows how published picture books are created.  Families leave the workshop with a hard cover picture book they wrote and illustrated themselves, a permanent memento to treasure and hand down.
Elementary

Caroline's interactive presentations are for groups of up to 60 students based on a specific book.  For Kindergarten to Grade Three: Norman, Speak!; Eat, Leo!  Eat!; I, Bruno and Bruno For Real; Very Serious Children; and the Jasper John Dooley books. For Grades Four to Seven:  Middle of Nowhere or A Simple Case of Angels. The presentation includes a reading, activities, a question period, and a book signing.  Books may be purchased at a discount, though advanced notice is needed to arrange for this.
Caroline also offers an informative 60-minute presentation on how books are written and published.  Writing and Publishing Books leads children through the process from the generation of ideas to the published book.
High School

Caroline's presentations at the high school level include readings from her teen and adult fiction, discussion of the creative process, publishing tips, a question period and a book signing. Books may be purchased at a discount, though advanced notice is needed to arrange for this. Caroline also offers a 2-hour writing workshop for teens, Becoming a Writer, which she developed for the Teen Book Camp during her tenure as the 2008 Vancouver Public Library Writer-in-Residence.
School Rates
Caroline's school visit rates are set by CWILL and CANSCAIP. She charges $250 for a 60-minute presentation. The fee for her 2-hour teen workshop Becoming a Writer is $400.  The fee for Bookmaking for Parents and Kids is $500.  GST is additional.
Grade 1 Feedback, The Mabin School, Toronto

"I like all the detale you pote. I ♥ you and
your book."
"Thak you for cameing!"
"You are a good righter."
"I liked your stiry becuase it was funny win you
said he was collecting belly button lint."
"I reely likt your book and pleas come back soon."
Grade 4 Feedback, The Mabin School, Toronto
"Thanks for coming to The Mabin School and showing us the steps needed to create a good story."
"We are inspired by your book and how much time you put into it."
"I really loved your presentation. I was fascinated by the stuff you had to say."
"You inspired us to write our own stories!"
Caroline has given children's readings and presentations at libraries, schools and festivals across Canada including:
Fernie Heritage Library, Fernie BC
Mission Library, Mission BC
White Rock Library, White Rock BC
Maple Ridge Library, Maple Ridge BC
Langley City Library, Langley BC
Agassiz Library, Agassiz BC
Silver Creak Elementary School, Hope BC
North Vancouver Public Library, North Vancouver BC
Larson Elementary School, North Vancouver BC
Capilano Elementary, North Vancouver BC
Simonds Elementary, Langley BC
George Mackie Library, Delta BC
Pitt Meadows Library, Pitt Meadows BC
Terry Fox Library, Port Coquitlam BC
École Christine Morrison, Mission BC
Yarrow Community School, Yarrow BC
Sardis Library, Chilliwack BC
Kitchener Elementary School, Burnaby BC
Cougar Canyon Elementary, North Delta BC
Dr. R.E. McKechnie Elementary, Vancouver BC
Lord Kelvin Elementary, New Westminster BC
Willowstone Academy, Kelowna BC
Mother Theresa Catholic School, Kingston ON
Trudell Public School, Kingston ON
Signal Hill Elementary, Pemberton BC
Shaughnessy Elementary School, Vancouver BC
Chief Maquinna Annex, Vancouver BC
Vancouver Technical Secondary School, Vancouver BC
Stratford Hall IB World School, Vancouver BC
Brockton School, North Vancouver BC
Eric Langton Elementary, Maple Ridge BC
Golden Ears Elementary, Maple Ridge BC
Laity View Elementary, Maple Ridge BC
Bookfest, Maple Ridge BC
Senator Reid School, Surrey BC
Wordfest, Calgary AB
Oak Bluff School, Winnipeg MN
Luxton School, Winnipeg MN
Lord Strathcona Elementary, Vancouver BC
Literacy for Life, Saskatoon SK
Lord Tennyson Elementary, Vancouver BC
Southridge School, Surrey BC
Urban Academy, New Westminster BC
Whistler Public Library, Whistler BC
Hastings Elementary, Vancouver BC
Gibson Elementary, Delta BC
Cresent Park Elementary, Dawson Creek BC
G.W. Carlson Elementary, Fort Nelson BC
Hudson's Hope Elementary-Secondary, Hudson's Hope BC
Don Titus Elementary, Chetwynd BC
Alwind Holland Elementary, Fort St. John BC
Bayview Community School, Vancouver BC
David Lloyd George Elementary School, Vancouver BC
Point Grey High School, Vancouver BC
Beaver Valley Community School, Thornbury ON
St. Vincent Euphrasia School, Meaford ON
Connaught Public School, Collingwood ON 
The Mabin School, Toronto ON
Glebe Montessori School, Ottawa ON
Ottawa Public Libraries, Ottawa ON
St. Michael's School, Burnaby BC
Richmond Public Library, Richmond BC
Cypress Park Elementary, West Vancouver BC 
Choice School, Richmond BC 
Word on the Street, Vancouver BC 
Christianne's Lyceum of Art and Literature, Vancouver BC
École Simon Cunningham, Surrey BC
Lumsden Elementary, Lumsden SK
Vancouver Public Library, Vancouver BC
Eden Mills Writers' Festival, Eden Mills ON
Yukon Writers' Festival, Whitehorse YK