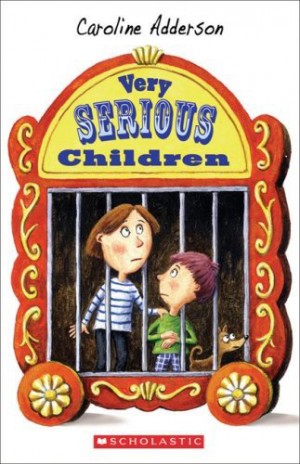 Nickelodeon Ha Ha Grant is not feeling too ha ha. But why not? Isn't he the luckiest kid in the world? He gets to travel from town to town with Mr. Fudge's Fantastic Flyers. He gets to live in a camper covered with glued-on trinkets and eat marshmallows and popcorn for supper. He can ride his unicycle whenever he wants. He doesn't even have to go to school! So what if he's never had a real friend? Then the tiny circus troupe sets up in Halo, Saskatchewan, and things start to change.
Tender, funny and wise, reminiscent of Polly Horvath, Jerry Spinelli and Roald Dahl, Very Serious Children is the hilarious story of Nicky and his little brother Saggy, two very serious children with clowns for parents. Really.
Winner of the 2009 Diamond Willow Award
A 2007 Vancouver Sun Editor's Choice
A 2009 Edmonton Public Library Book of The Month
Nominated for the 2009 Rocky Mountain Book Award
Buy Very Serious Children from Amazon.ca or find a local bookstore.
Caroline reads Very Serious Children at Lumsden.
Praise for Very Serious Children
With smooth writing, creative design and surprising plot twists, Very Serious Children is pure fun for serious and not-so-serious young readers.
—The Vancouver Sun
Enjoyable characters, a fun plot, amusing inversions – there's much to recommend in this book… a funny, mostly sensitive and quite charming novel.
—The Globe and Mail
[An] intriguing short novel… Nicky is the straightest of straight men and it is his deadpan voice that gives the comedy its original flavour… Adderson is wonderful with close observation of telling details.
—Quill and Quire
Humour is a major part of the book…My co-reviewer and I enjoyed the story, the characters and the humour. Very Serious Children would be an excellent addition to a school or public library. Highly Recommended.
—Canadian Materials