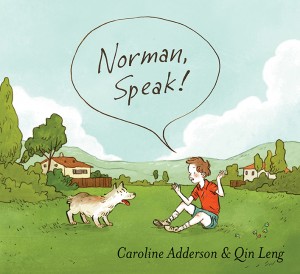 Norman, Speak! tells the comical yet thought-provoking story of a boy and his family who adopt a dog that just can't seem to learn the things other dogs do.
Overwhelmed by dogs in need at their local animal shelter, a young boy chooses Norman, the stray that's been there the longest. But, upon bringing him home, the family quickly learns that Norman won't respond to commands. He doesn't even know his own name.
During a chance encounter with another dog owner in the park, the family is very surprised to learn the reason for Norman's confusion; he "speaks" Chinese instead of English! And so the family enrolls in a language class, determined to understand their uniquely loveable pet.
The humorous text, from award-winning author Caroline Adderson, and Qin Leng's delightful illustrations combine to create a picture book that will be enjoyed by readers (and dogs) no matter what language they speak.
CBC Books' 12 Contemporary Picture Books Every Canadian Home Should Have
Nominated for a 2015-2016 Chocolate Lily Book Award
A 2015 USBBY Outstanding International Book
Nominated for the 2015 Christie Harris Illustrated Children's Literature Prize
An Ontario Library Association 2014 Best Bet
A 2014-15 Red Dot Book Award Nominee
A Spring 2014 Junior Library Guild Selection 
An SPCA Speaking for Animals Product Recommendation
Publisher's link: Norman, Speak! Groundwood Books

Buy Norman, Speak! at Amazon.ca or find a local bookstore.
Praise for Norman, Speak!

This is a fresh and original take on the new-pet story that provides a gentle little paradigm shift along with its slight absurdity; the family's genial embrace of their new dog's language is both humorous (Adderson has a nice line in family banter) and offhandedly heartwarming. There's a retro feel to the wholesome, easygoing ink and digital color illustrations, resembling the work of Marc Rosenthal (I Must Have Bobo!) in the trim, humorous drafting; soft tones and generous white space keep the book airy and joyful.  This would make a solid entry to a multilingual sampling, or just a tactful way to make kids consider their pets as something other than reflections of their humans."
— The Bulletin of the Centre for Children's Books
Adderson, who has demonstrated she knows more than a thing or two about young boys' hearts, minds and behaviour in her delightful Jasper John Dooley series, does so here once again with her characteristic gentle humour, wry wisdom and perfectly pitched (neither over small heads or talking down to them), smart, evocative writing…This tale of walking a mile in another's paws is a lovely reminder that empathy is essential to any communication.
…Caroline Adderson's memorable story is about a family and a dog who grow to understand and love one another.  The writing is insightful without being maudlin… No one will ever forget the joyful Norman as he does his "hula dance of happiness" whenever he sees his owners.
— Canadian Children's Booknews
Pet lovers will appreciate this family's lighthearted journey toward making this relationship succeed. As an added bonus, readers can learn or brush up on their Mandarin, giving an original twist to the story… Norman's rocking rump and hula dance are quite the highlights—it's a language everyone can understand.
Throughout this lovely story, it is clear that the boy and his parents love Norman just as he is. Simple ink drawings set against ample white space make the endearing dog come alive on paper.  This title will be a surefire hit with children.
The text and the illustrations, drawn in ink and digitally colored, may cause readers to question their own assumptions not only about how animals communicate and whether humans are smarter than animals but also their assumptions about those who speak a language other than English.
Adderson's thought-provoking, diversity-celebrating (oh, so cleverly so!) tale is superlatively enhanced by Qin Leng's whimsical, humorous illustrations. Most noteworthy are the expressions Leng imbues on both her canine and human subjects – from the quizzical head tilt to classroom giggles. Get ready to join in on that "hula dance of happiness.
The book is at turns touching, funny, and thanks to a clever twist…educational.  Adderson's simple, clear-headed prose is complemented by Leng's splendid illustrations which capture just how much fun, not to mention how much work, it is to own a dog.
In many ways this is reminiscent of Aaron Meshon's Take Me Out to the Yakyu (2013) in the way that it reinvigorates a common picture book topic by filtering it through a multicultural lens.  Multilingualism is presented as an interesting and immediately rewarding pursuit (cool words like zuoxia help), and Leng's ink illustrations keep things loose and friendly with almost Tintin-like characters.  Hnho! 
—  Booklist
Overall, Norman, Speak! is highly recommended for children ages four to eight.  The story is adaptable enough to be as simple as necessary for younger audiences and complex enough for older ones.  It encourages the acts of language awareness, diversity, and empathy.  Children with new pets can relate, as can any child who wonders about other cultures.  Norman, Speak! opens a dialogue for new discussions and is the perfect fit for any classroom.
Turnabouts abound in this tale of a boy who decides his family should take the neediest dog in the shelter for their own ("'Which dog has been here the longest?' I asked the shelter woman"). Named Norman by the shelter, the dog seems happy and eager enough, but doesn't respond to even the simplest commands. But it turns out that Norman is neither untrained nor stupid; a serendipitous meeting in the park with another dog and owner reveals that Norman understands Chinese! So the boy and his parents are off to Chinese language school, where Dad shows himself to be not the best student. "More effort," the teacher says. "Fewer jokes." There are lessons here—about patience as well as intercultural understanding—but they're very lightly worn, and the casual line of the ink-and-color illustrations reminds us that this is a warm family story most of all: "We say, 'Wo˘mén aì nıˇ, Norman.' Because we do. We love Norman."
— The Horn Book
  … the message of "smartness" not being equal to understanding is told without judgement or fear.  This message is an important one for children to learn, especially if they perceive that they themselves are not regarded as smart…  Too often, we misjudge and attribute lack of comprehension to lack of intelligence.  Wrong!  Caroline Adderson brings this revelation to Norman's people slowly but they get it in the end. They may have been quick to judge Norman but they learn soon enough that understanding has nothing to do with "smarts" but rather familiarity and regular opportunities for practice. Thankfully Norman doesn't hold their lack of Chinese against them.  Ultimately they are a perfect match, like Caroline Adderson's text and Qin Leng's illustrations, but one based in acceptance, not achievement.
 … [a] heartwarming picturebook that young dog lovers will adore.
…a lovely picture book. Norman is adopted by a family who wants to give a home to the dog who has been in the shelter the longest. This is the first important lesson offered in this insightful book.
— The Bark
There's so much to love about Norman, Speak! The story is delightful, a really good family message about not giving up on someone you love, and working together as a family with a goal. Then there's Qin Leng's adorable illustrations. Like the people, the dog is expressive and you feel like you really get to know each person.
…[T]he stuff of memorable and heartwarming tales… The solution to the family's dilemma is handled in a way that will have the audience smiling.  Difficult?  Yes!  Worth the work?  Oh, yes!
Vancouver author Caroline Adderson's sweet tale is complemented by Toronto artist Qin Leng's charming illustrations.
I liked the boy's determination and perseverance as he tries to learn a new language (especially when his dad gives up) and his dedication to the dog he so badly wanted. With illustrations by Qin Leng that provide a variety of perspectives, the story unfolds with perfect timing, allowing the boy's voice to shine. Reading this aloud to children will require a few Chinese pronunciation lessons for me, but I know there will be many young volunteers ready to teach this library lady.
There is so much to love about this book – and many important messages about language and communicating.
I love the premise behind this book: that "different" doesn't mean "wrong" or, in this case, "stupid." It's a smart, well-written and well-illustrated book that will stay with you and I highly recommend it.
In this charming picture book we meet a family that adopts a dog only to discover that their initial assessment of him was woefully incorrect. Their dog knows how to do all kind s of things and now they have to find a way to communicate with him. It is wonderful to see how hard they work to solve this problem and how things work out in the end.
—Through the Looking Glass Book Review
Adderson's gently humorous text leads readers to simply believe that this is the story of a rather slow dog being adopted into a family.  The twist of the language appears abruptly, changing the course of the book and the reader's opinion of Norman in an instant.  It works tremendously well… A celebration of diversity and differences in doggie form, this picture book is just as clever as Norman.