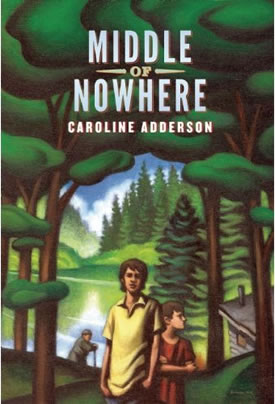 At first Curtis isn't too worried when his mother doesn't come home from her all-night job at the local gas bar. She'll be back, he's ten out of ten positive because she promised she'd never leave him again.  Besides, Curtis is used to looking after himself and his five-year-old brother, Artie.  For a time he manages on his own, keeping their mother's absence a secret. But when the credit card maxes out and the landlord starts pressuring for the rent, it's more than a twelve-year-old can handle. Just in time, Curtis and Artie make friends with Mrs. Burt, the cranky, lonely old lady who lives across the street. When the authorities start to investigate, the boys abscond with Mrs. Burt to her remote cabin by the lake.
At the lake, the boys' days are filled with wood-chopping, outhouse-building, fishing, swimming and Mrs. Burt's wonderful cooking. But as the summer sails by, Curtis can't stop thinking about his mother's promise.  When he asks to go back to the city, Mrs. Burt refuses and Curtis starts to panic. Have they really just absconded to the lake for a summer holiday? Or have the two boys been kidnapped?
Shortlisted for the the 2014 Chocolate Lily Award
Winner of the 2013 Sheila E. Egoff Children's Literature Award
Shortlisted for the 2013-14 Manitoba Young Readers' Choice Award
Shortlisted for a CLA 2013 Children's Book of the Year Award
An OLA 2012 Best Bet
A Quill and Quire 2012 Book of the Year
A Best Books for Kids and Teens 2012 Starred Selection
A CBC's The Next Chapter's Summer 2012 Reading List Selection
A Spring 2012 Junior Library Guild Selection 
Publisher's link: Middle of Nowhere at House of Anansi
Buy Middle of Nowhere at Amazon.ca
Praise for Middle of Nowhere
Thoughtful, eventful and sharply realized, this poetic novel celebrates the resourcefulness of both the young and the old. Excellent fare.
— The Toronto Star
What could easily have become a heavy-handed tale of desperation is anything but thanks to Adderson's ability to maintain a thread of humour throughout. The beauty of her delivery is that the comedy is never forced; rather, it is found in small, subtle moments – the kind readers will recognize as genuine.
— Quill and Quire Book of the Year Citation
Caroline Adderson's storytelling emotionally engages the reader in Curtis', Artie's and Mrs. Burt's fears of their nowheres, while offering hope about the nowhere in which the boys' mother exists.  Curtis' voice is distinct, both trusting and hesitant, well-balanced with the tone of the narrative, as he learns that nowhere is just a product of a flawed perception.  Nowhere is always somewhere – the chances are ten out of ten.
—www.canlitforlittlecanadians.blogspot.ca
Two-time Ethel Wilson Fiction Prize winner Caroline Adderson is that rare bird: a writer who brings to the middle-grade novel the artistry and respect it deserves. These books are the exclusive province of children in that, on one hand, they do not require adult intermediaries to read them aloud, while on the other, they are in little danger of becoming crossover books or falling under too much scholarly scrutiny. These are the books that children choose for themselves and read in private, and they can be among the most influential books a reader ever experiences. To write them requires a particular skill set, one that Adderson exhibits in spades.
— Quill and Quire starred review
 As the boys and Mrs. Burt spend the summer in the remotely situated cabin, the plot unfolds into a captivating story that engages the reader into the realm of heartache, skepticism, hope, and compassion.  I would highly recommend Middle of Nowhere for school and public library collections. With depth and meaning, Adderson writes on coming of age and finding a sense of belonging. She poignantly chronicles the tribulations and triumphs of Curtis, Artie and Mrs. Burt.
… (N)ear perfect.  Adderson introduces readers to sensitive protagonists whose poetic moments linger after the books are read.
—Canadian Children's Booknews
Well told and with a bit of freshness, Middle of Nowhere is a solid book for 8-11 year olds and a nice addition to the children-abandoned-by-their-mothers genre.
The character dynamics are just right throughout — twelve year-old Curtis's love for Artie and grief over their missing mother are fully realized; Artie's impressionability is touching, as is Mrs. Burt's desire to nurture the boys… Adderson's success here is the subtly realistic tone (with comic notes) through the heavy moments and the moral conundrums.
—The Horn Book Magazine
Middle of Nowhere is an excellent book for middle-grade readers. Curtis's compelling and honest narrative — the mix of thrill with sadness, hope with disappointment and skepticism with optimism — will capture readers. Award-winning author Caroline Adderson tells a poignant and memorable story.
— Professionally Speaking, The Magazine of the Ontario College of Teachers
Adderson has skilfully juxtaposed Curtis' fears and worries and the younger Artie's confusion with the simple joys of summer at the cabin with a gruff but clearly caring Mrs. Burt, and the old woman's heroic tales of King Arthur with the unpleasant things she whispers to Artie about his missing mother.  This subtle and complex and beautifully written story is bound to appeal to discerning readers from Grade 4.