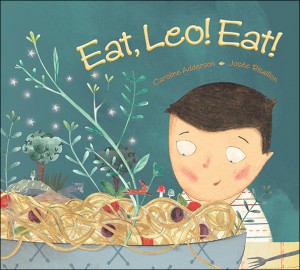 Every Sunday, Leo and his family gather at Nonna's house for lunch.  Everyone is hungry for Nonna's delicious homemade pasta…except Leo, who'd rather play.  But when Nonna passes around the bowls of soup with stelline – small, star-shaped noodles – she also serves the start of a story.  Leo eats his lunch as he listens to the tale, which cleverly features that week's noodle shape, and over the next few weeks Leo and the whole family grow hungrier for more pasta…and more of the story!  A scrumptious book about food, family and the art of storytelling.
A Cooperative Children's Book Center 2016 Choice
A Mario Batali Foundation Healthy Kids Collection Selected Book
A Best Books for Kids and Teens 2015 Selection
Buy Eat, Leo!  Eat! at Amazon.ca or find a local bookstore.
Publishers' link: Eat, Leo! Eat! at Kids Can Press
Praise for Eat, Leo! Eat!
In this heartwarming picture book, award-winning author Caroline Adderson beautifully captures the love and tenderness Leo feels from his grandmother and the rest of his close-knit family through lively, true-to-life dialogue. The playful, detailed artwork by Jose Bisaillon helps bring all of them to life. This book offers a perfect framework for lessons exploring the heritage, customs and relationships of families. The unique story-within-a-story concept, along with the idea that Nonna's tale is being told cumulatively, could easily launch a storytelling assignment.
Food, family, stories: delizioso!
As more baby-boomers joyfully achieve grandparenthood, we're seeing lots of releases that feature a strong grandparent figure.  This time it's Nonna, Leo's grandmother, who has us eagerly turning the pages in Caroline Adderson's latest Eat, Leo! Eat!  Leo is every Nonna's nightmare, a grandchild who won't eat her delizioso Sunday family lunch.  But because grandmothers are both resourceful and wise, Leo's Nonna devises a way to get Leo to the table… The depiction of a warm, noisy and extended Italian family is respectful and celebratory.
Eat, Leo! Eat! showcases the ways storytelling can help us connect to the world around us, and bring us closer together as well. A lovely tale for family and friends to share.  Highly Recommended.
Eat, Leo! Eat!, by Caroline Adderson (Kids Can Press, 32 pages, $18.95), continues in the Italian vein, taking that produce from the garden into the house, where it appears on the table alongside another Italian staple: pasta. Josée Bisaillon, another Quebec illustrator, uses collage and mixed media to show us the Sunday dinners at Nonna's (Grandma's) house, where young Leo would rather play than eat. He regularly has to be lured to the table with promises of a story, and Nonna never disappoints …
Life, like most cooking, is based on a simple recipe. Do what you love and take care of those whom you love. This simple recipe is followed beautifully in Adderson's new story celebrating pasta, family, and storytelling. In Eat, Leo! Eat!, a grandmother figures out how to entice her grandson to the dinner table by spinning a series of stories inspired by the shapes of the pasta she cooks for the weekly family gathering…  The bright, childlike illustrations pair perfectly with the story, and artist Josée Bisaillon easily moves readers between the bustling kitchen and the fictional story by altering the color palette just slightly between the two settings. VERDICT An engaging read-aloud that will have you gathering your family for a home-cooked meal and some shared stories.
— School Library Journal
This warm tale of luring reluctant eaters with patience, love and an appealing yarn will bring wry smiles to parents who have 3-to-7-year-old Leos of their own.
—Canadian Children's Booknews
When Leo doesn't want to eat Nonna's lunches, she comes up with an intriguing tale for each dish. The pages are filled with vivid illustrations Adults and children ages five to eight will eat it up.

— The Calgary Herald
Caroline Adderson knows how to weave a captivating tale. She is the acclaimed author of numerous stories for adults and children, including the Jasper John Dooley series. Adderson's second picture book, Eat, Leo! Eat! is a story-within-a-story: as Leo sits in front of zuppa (soup) containing stelline (tiny stars), Nonna tells him the tale of a boy who travels by night to see his own nonna. Needing a light to see by, he makes a wish, and stelline appear in the sky to guide him. Each week Nonna adds to the story using her pasta as inspiration. Award-winning illustrator Josée Bisaillon contributes vibrant mixed media collage full of eye-catching patterns. Kids will particularly love the cover illustration, which, upon close inspection, reveals elements of Nonna's cumulative tale in Leo's bowl of spaghetti.
Readers share the warmth of this family's love for each other, their shared cultural heritage, and the food that brings them together one time every week. The cumulative storytelling adds depth and a connection to the variety in the pasta that Nonna makes to share with her happy Italian brood.
I enjoyed reading this story to my granddaughter who, just like Leo, constantly asked, "What happened next?" There is Italian verbiage throughout the story and at the end, there is a small lesson on pasta.
Yum!  The illustrations are expressive and whimsical adding charm and richness to the tale and highlighting the text perfectly.  I enjoyed the book immensely and recommend it to my readers.
[T]he story shows a grandmother's love and one family's traditions… Children and adults will both enjoy the story, especially its gentle humor and nonna's cleverness.
This is a delightful book that I have no hesitation in recommending – especially for enjoyment or as a starting point for further work with children! 5/5
Caroline Adderson's text and Josee Bisaillon's illustrations reveal a nostalgic love for big family gatherings, the Italian countryside, and a loving, extended family…  I would love to join Leo for Sunday dinner at Nonna's!
In this heartwarming picture book, award-winning author Caroline Adderson beautifully captures the love and tenderness Leo feels from his grandmother and the rest of his close-knit family through lively, true-to-life dialogue.  The playful, detailed artwork by Josee Bisaillon helps bring all of them to life.
 Eat, Leo! Eat! is a wonderful picture book for family and school and library sharing. The story is fun and has adventure, but it can also be used to spark discussion about family, foreign languages, various cultures and their stories, and food.
I enjoyed reading this story to my granddaughter who, just like Leo, constantly asked, "What happened next?"
So sweet. Perfect to read to a picky eater, while a big pot of pasta is cooking or on the way to grandma's.  And now I'm hungry!
Leo's not interested in his Nonna's delizioso family lunches until she tells him a story about the pasta she's cooked. The family's enjoyment of stelline (little stars), occhi di lupo (wolf eyes) and other types of pasta becomes a cumulative adventure story.
Not being even remotely Italian, I have truly never understood (nor pronounced correctly) the many names of pasta, which is why I loved this book so much. It is a unique way to introduce readers to a subject that they didn't know they needed or wanted to know. This is a book about good Italian food and the importance of heritage. It is about the power of story and how it shapes our view of the world and our role in it.  Most importantly, it is about family. The illustrations were fantastic and I walked away feeling like I had not only read a good book, but had learned something important. For example, the Farfalle pasta I made last weekend, which I have always called bow-tie pasta, should actually be called butterfly pasta. And now I know.
The book has mixed media illustrations to illustrate both the crowded family meal gathering around the Sunday evening table as well as the fantastic story about the boy that Nonna ads to each week. One week, the stelline pasta represents the "stars" above the boy traveling in the evening in Nonna's story. Another week, the occhi di lupo becomes the "wolf eyes" that the boy sees following him in the dark. But no worries, for spaghetti will soon follow! Week after week, the story continues, until Leo cannot wait for the story and joins Nonna in the kitchen, where he helps her make the pasta.

The end note to the book provides a brief overview of other traditional Italian pastas. As one who enjoys Italian food, I only wished that I could enjoy the recipes for these scrumptious sounding (and lovely illustrated) Italian dishes. Yum!