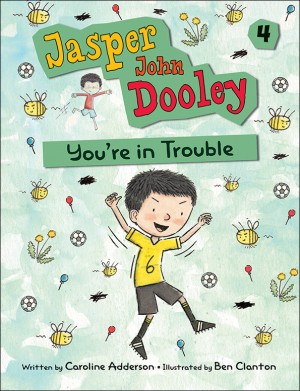 After soccer practice, Jasper accidentally chooses the wrong drink from the vending machine. It's fizzy and syrupy and tastes so so good, but Jasper knows it's so so Bad. He sneaks some sips on the way home then hides it in the fridge. That evening, Jasper can't seem to slow down. He has so much energy that he can't sleep, either.
The next morning, he feels awful, but for the rest of the week, Jasper can't stop himself from sneaking sips of the Bad drink and doing more and more Bad things. He bends the rules at soccer, gets his best friend in trouble at school, and lands himself in a Very Embarrassing situation. Will Jasper's secret drink be discovered? Will he be Bad for the rest of his life?
Buy Jasper John Dooley, You're in Trouble at Amazon.ca or find a local bookstore.
Nominated for a 2016-17 Chocolate Lily Award
A Best Books for Kids and Teens 2015 Starred Selection
A Kirkus Review Starred Selection
OLA Best Bet Junior Fiction Honourable Mention 2015
Praise for Jasper John Dooley, You're in Trouble
Jasper's very normal but always humorous experiences make the reading fun. Even an unexpected trip to the emergency room for stitches takes on a flavor of silliness when Jasper concludes to a teammate, "They pay you for it. They pay you in suckers." Clanton's simple, lively illustrations match nicely with the narrative.  Another highly entertaining and enthusiastic outing in a series that's perfect for readers new to chapter books and as a captivating read-aloud.
— Kirkus Reviews (starred)
Jasper is as charming as ever, and his ever-so-slightly naughty behavior is funny and relatable to the early elementary school audience. A perfect series installment for newly independent readers.
Jasper John Dooley, You're in Trouble is the fourth in a series of well-crafted read-aloud chapter books for children in kindergarten to grade two. Jasper John's exact age and grade are not mentioned, so You're in Trouble will also be appreciated by older children starting to read chapter books on their own. Once again, Caroline Adderson deftly shows the unique thinking of a resourceful and imaginative little boy… [R]eaders of all ages will be entertained and amused by Jasper John's behaviour at school when he is forced to deal with the outcome of his Bad, energy-drink-inspired actions.  Highly recommended.
A vending machine mishap results in hyperactive Jasper receiving a can of Torpedo High Energy Drink. It prickles his tongue like tiny bombs and makes his head feel like it will explode. He knows it is a Bad drink but he cannot resist its sweetness. It makes him do so many bad things: scuff the floor with his bike, wear Saturday underwear on Friday, even accidentally soak his feet in the girl's bathroom toilet. Silly and fun, Jasper John resembles a young Joey Pigza with a functional, loving family. Fans of his earlier exploits will happily embrace his latest story.
—Booklist
In the latest instalment, [Jasper] accidentally receives an energy drink from a vending machine, which he slowly consumes over the course of a week releasing caffeine-fueled terror with each sip…  The sentences are clipped and repetitive, designed to ease readers through the transition into longer narrative structures. The books are episodic—they don't need to be read in order—but there is some continuity to encourage reluctant readers to delve further into the series. Jasper John is affable and just weird enough to appeal to kids who may have trouble relating to more mainstream heroes.
Jasper John has drunk part of a bad drink, Torpedo Energy Drink! This kind of beverage is strictly forbidden, and Jasper John feels, even after a few sips, that he's going to be Bad. His Bad antics, arising from his typically strange reasoning, lead to some weird, funny calamities.
Engaging characters, pitch-perfect dialogue, humorous everyday experiences … this series has everything to attract young readers. Perfect for those wanting to read more complex text on their own, and absolutely wonderful to read aloud to your family or your students. Bring on #5, please.
You're In Trouble is a crack-up.  I was laughing out loud as he got himself into all kinds of trouble.  On a deeper level, Jasper teaches kids that our actions have consequences.  As he tries to get himself out of trouble, or cover up what he's gotten himself into, sometimes he just makes it worse.
The Jasper John Dooley chapter books stand out as beacons of childlike-ness against a sea of childish chapter books targeted to boys. Instead of bathroom humor and superhero actions, Jasper John is an ordinary kid facing ordinary problems…  Jasper John Dooley: You're in Trouble is a great book to hand to newly independent readers or to read aloud to the kindergarten crowd…
The story is well-written and very funny. Children will easily relate to the events in the tale and really won't want to put it down. The illustrations enhance the story and are highly appropriate. The book has over 100 pages, the story is divided into chapters and it is a great tale.
The book is not just about making good choices or the sketchy things that happen when we make bad choices, but about learning to resist temptation. In this regard, it may be helpful for some adults too.  4/5 stars
In the fourth episode, You're in Trouble, readers experience Jasper's naughty side. From enjoying a forbidden high-energy drink to bending the soccer rules, Jasper explores the idea of "bad" and learns lessons about making good choices.  Young, independent readers will enjoy the numerous illustrations, realistic characters, and short chapters.  The age-appropriate stories focus on common childhood problems and ways to deal with feelings.
— Teacher Librarians: Bridging Theory and Practice
This is my first Jasper John Dooley, and I am hooked! He is a boy with a lint collection and an amazing ability to get himself into trouble, no matter what. Jasper accidentally chooses a high-caffeine drink from a vending machine, and the results are: bad, if you're Jasper John Dooley; hilarious if you are the reader. An early chapter book with delightful drawings, this one will have you chuckling until the end.
— Massachusetts Librarians Youth Services Book Review
I like this book because Jasper did all these funny things. Jasper discovered that he probably shouldn't drink high-energy drinks because it has a lot of caffeine in it, and that was why he wanted to drink it again and again. I'd like to get the other Jasper John Dooley books, because this one was so fun!
— San Francisco Book Review (reviewed by Rachel, Age 8)
I enjoyed this fast paced, funny story about Jasper John Dooley, who drinks a forbidden sugar and caffeine loaded energy drink and soon becomes an addict… The story is simple and really funny, but actually has some important lessons: Our actions have consequences, and following compulsions or crazy impulses can get us in trouble.
— Oregon Coast Youth Book Preview Centre