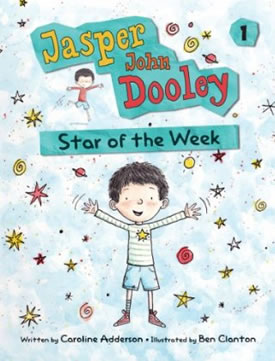 At last, it's Jasper John Dooley's turn to be Star of the Week at school. Unfortunately, nothing turns out as planned. His Show and Tell falls flat. A new baby at his friend Ori's house steals his spotlight. And worst of all, the new baby has only-child Jasper wondering if his own family is too small. When Jasper decides to build himself a brother (named Earl) out of wood, Earl's schoolyard shenanigans send Jasper to the principal's office! But with a little help from family and friends, things turn around for Jasper. And by the time Friday arrives, he is once again sure that he has what it takes to be a star.
Jasper John Dooley: Star of the Week is the first in a series of chapter books featuring a charismatic and funny central character. An only child with active, loving parents (and a most impressive lint collection), Jasper John Dooley is a true original.
A 2013 Best Children's Books of the Year, Bank Street Children's Book Committee
Nominated for a 2013-2014 Hackmatack Children's Choice Book Award
Nominated for a 2012 CYBILS Award
A CCBC Best Book for Kids and Teens 2012 Selection 
A CBC's The Next Chapter's Summer 2012 Reading List Selection
An Open Book Toronto Summer 2012 Reading Recommendation
OLA Best Bet Junior Fiction Honourable Mention 2015
Buy Jasper John Dooley, Star of the Week at Amazon.ca or find a local bookstore.
Publishers' link: Jasper John Dooley, Star of the Week at Kids Can Press
Praise for Jasper John Dooley, Star of the Week
An early 'chapter book' that's a work of genius—quirky, clever, wise, funny and altogether convincing…. Jasper's eccentric imagination and open-heartedness make him a sympathetic, often laugh-inducing hero, but more than that, Adderson presents a rich, textured perspective on the world…. Almost everything about this story is delightfully unexpected and rings true; it has a playful sparkle that makes it truly exceptional.
—The Toronto Star
Irrepressible Jasper embraces his role as classroom Star of the Week. True, show-and-tell does not go as planned.  His classmates are surprisingly unimpressed by his lint collection, but he has high hopes for Family Tree day. His best friend, Ori, has a baby sister (named "Wa-wa-wa-wa" for her incessant crying), and Jasper wants one, too. Stymied by his parents' refusal to check the hospital for extra babies, Jasper fleshes out his family tree by building a brother out of wood. Like show-and-tell, having a wooden brother does not unfold as Jasper expects. Characters are likable and quirky, and their exuberance is captured in intermittent pencil illustrations. This well-written, funny, and engaging story is a promising start to a new chapter-book series, and early readers will anticipate Jasper and Ori's further adventures. Share with kids looking for a boy version of Sara Pennypacker's Clementine series or with fans of Lenore Look's Alvin Ho books.
—Booklist
This first title in a transitional chapter book series introduces an enthusiastic boy full of creativity and everyday concerns. Line drawings in various sizes support his quirky personality and zeal. This title serves as an easier, male rendition of Sarah Pennypacker's "Clementine" series.
—School Library Journal
Jasper, an early-elementary student, is finally Star of the Week, but his enthusiastic expectations may exceed the reality of all that accompanies the treasured position… Lots of believeable dialogue enhances the brief, large print presentation.  Written for those who have just transitioned to chapter books, this series opener includes simple yet attractive black-and-white illustrations every few pages.  Nothing major happens, but Jasper's day-to-day concerns are charming and funny.  Readers will identify with many of Jasper's comical, age-appropriate issues as he navigates the sometimes confusing complications of early primary school.
Jasper's a quirky kid, from his unusual lint collection, to the way he starts talking to Earl as if he's real, to his thinking that the sound coming from the sloshing of water in his stomach makes him a musical instrument. Spending a week with Jasper John Dooley is definitely an interesting experience. I'm looking forward to seeing what comes next for him!
—WABC-TV Sweet on Books
Adderson's slightly quirky little boy is perfectly drawn. Jasper is excited to be the center of attention, but disappointed and embarrassed when things don't go the way he'd planned. His absorption is funny and honest – when he gets to the principal's office, he's completely shocked that the whole school doesn't know about Star of the Week. He can't believe nobody understands how amazing his lint collection is. Clanton's black and white cartoon illustrations are the perfect fit, showing an enthusiastic small boy in various humorous situations… I'm excited to see more beginning chapter books, especially featuring boys, but I wonder if the boys will be excited? Verdict: Although I have reservations on how much boys are actually interested in these "everyday life and feelings" type of stories, parents and teachers choose them frequently. I think Jasper John Dooley has enough humor in it to keep boys interested and the illustrations are attractive. Recommended!
Jasper John Dooley, Star of the Week is a delightful and inspiring read-aloud for both teachers and parents of young children. Jasper is captivating and endearing…. [He] tackles his problems with imagination and wit…  Readers of Jasper John Dooley: Star of the Week will be happy to know that it is the first in a promised series.  Highly Recommended.
Haplessly comedic Jasper is an exuberant if quirky kid who's fortunate to have an extremely loving and understanding set of parents…  [T]here is plenty of humor to be had as Jasper talks his way into and out of all kinds of shenanigans with varying degrees of success…  Although some readers may find Jasper's quirkiness more showoffy than endearing, those who identify with his creative approach to problem-solving will find this a welcome new addition to early chapter books.
—Bulletin of the Center for Children's Books
This is an adventure chock full of humor and heart. Jasper is immediately loveable, quirks and all. His parents clearly love him the way he is. And even though being Star of the Week didn't work out exactly as he planned it, he learns he can shine bright every day (Star badge pinned to his shirt or not) as long as he remembers to show others his heart. As a mother of boys, I especially love that Jasper sounds like a boy and thinks like a boy. I highly recommend this book.
Caroline Adderson tells a gentle story of friendship and school challenges that will resonate with any young reader. The illustrations by Ben Clanton help give readers a sense of Jasper and his world.
Many children have little ways that are uniquely theirs. They collect strange things, or play odd games, or have an interesting approach to life. The main character in this delightful book is decidedly quirky, and we love him for it. Whenever he gets himself into a tight spot, he finds a way to fix things, often in ways that are rather peculiar. As a result, he is funny and unpredictable. The good news is that Jasper John Dooley hasn't finished with us yet. He will be back with more adventures, hopefully sooner rather than later.
—Through the Looking Glass Children's Book Reviews
Jasper John Dooley is childlike. He is funny, endearing, lovable, and makes plenty of mistakes. But his mistakes are childlike and the logical outworkings of a busy, energetic, and creative elementary student. He is not disrespectful, he does not laugh at others' expense, and he has a pretty good attitude, even when things don't go his way. THIS is the kind of kid I want my children to read about and enjoy "getting to know."
The first in a new series of transitional chapter books featuring Jasper John Dooley, a quirky and creative young boy. Jasper is finally Star of the Week although it does not run as smoothly as he had planned. From his less than interesting lint collection show-and-tell, to his dismal family tree, to his forgotten science experiment, Jasper worries that he will have to forfeit his "star" status before weeks end.  Add in his new quest to convince his parents that their small family needs an addition and it's clear that Jasper has a lot on his mind.  Adderson creates a wonderfully believable character in Jasper with easy to read text. The occasional black and white line drawings add additional depth.  Recommended.
Kids ages 7 and up will be able to relate to Jasper and his wishes, dreams, and troubles. Well-written with humor and skill at letting us in on the world from Jasper's point of view. A good first novel for kids in between easy books and longer children's fiction.
Readers will clamor for more from this unlikely but likeable and free-spirited hero.
—International Reading Association Reading Today
(A)uthor Caroline Adderson tells a gentle story of friendship and school challenges that will resonate with young reader.
Jasper is a really fun character, sure to appeal to boys in Pre-K to 2nd Grade who are ready for short chapter books. His unusual interests, silly mistakes, and his friendship with his best friend, Ori, make him very easy to relate to, and the story just breezes right by as the reader becomes more and more invested in his success as the star.
Jasper John Dooley is an energetic boy young readers will love… With easy-to-read text with plenty of white space throughout, black and white sketches and 12 brief, kid-friendly chapters, Adderson's tale will help first- through third-graders learn that a little disappointment can turn to success with understanding and hard work.
This is an engaging, funny and very beautifully written novel for young children about the difficulties of having babies in the house. This early chapter book with its amusing black and white illustrations will definitely capture the interest of young readers.
— Children's Literature Comprehensive Database
Jasper John Dooley, Star of the Week by Caroline Adderson is about a student with spark!  Loves life, problem solver for all the "stuff" that happens to young kids – family, school, friends, teachers.   Great first chapter book for young readers – also this would be a good read aloud in the classroom or bedtime reads with mom and dad.
— CMLD Kids/Teens Book Reviews
It's hard not to fall in love with this energetic and likeable boy.  Adderson's depiction of Jasper's loving, effective parents, his calm and caring teacher and his devoted friendship with Ori lend a sweetness that's never sappy.  More please!
The dialogue is wonderful, the humor made me laugh out loud. The black-and-white illustrations are a perfect complement to the text that is sure to encourage those young readers wanting to branch out into a chapter book format. Jasper is so charming and real that they will be glad to share his everyday ups and downs. Then, they will reach for the next book in the series …
Not only does Jasper's special week to be the class Star turn out to be highly amusing, but other quirky and humorous events are sprinkled in along the way. This new book series promises to be a hit with early readers!
Adderson infuses the story with sweet humor that children and parents can relate to. There are also lessons to be learned: Jasper experiences setbacks, but he doesn't give up….  I also love the way this book features a little boy; there are so many books that have young female protagonists, so it is nice to see a little boy who isn't necessarily wild or naughty like the boys in other books. I've already told several of my friends with boys my daughters' age about Jasper, and I'm hoping that this review helps even more people discover Jasper. We are looking forward to reading more of Jasper's books soon!
Jasper John was sweet and lovable and real. He's a quirky individual who I think that young readers will identify with, whether they are new big brothers or sisters or only children. Every kid wants to be appreciated and liked by their teacher and classmates, and Jasper John shows kids that they can do that by being themselves. I'm not sure if kids this young are old enough to pick up on fiction that has an ulterior motive of teaching a lesson, but don't worry, author Caroline Adderson isn't being preachy. She lets Jasper John shine on his own.
Jasper John Dooley is one of my new favorite characters! Seriously, how can you not love a character who has a collection of lint?!? (Including rare belly button lint from his dad's belly button!)