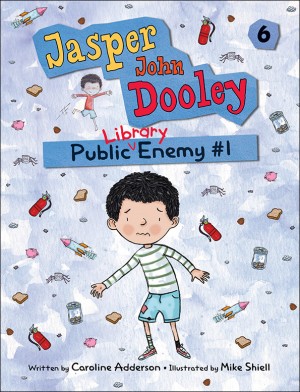 All Jasper John Dooley was trying to do was practice his reading skills. He wanted to be ready for his turn to sit in the big, comfy chair at the library on Wednesday and read to Molly the Dog. Even though Jasper was being so so so careful, the wonderful library book about toilet-paper-tube crafts accidentally falls into his bath and drowns. After that, he and his dad only make things worse by setting the book on fire and then shooting it with the fire extinguisher. "We're Book Killers," Jasper says. He knows he's going to have to pay for the ruined book, or they'll never let him back in the library again. Except, from what Jasper can tell, the price printed on the book says two thousand five hundred dollars! How can Jasper possibly find a way to raise that much money? And before Wednesday?
Buy Jasper John Dooley, Public Library Enemy #1 at Amazon.ca or find a local bookstore.
Praise for Jasper John Dooley, Public Library Enemy #1
Adderson's simple, spot-on text and illustrator Shiell's frequent cartoonlike illustrations work perfectly to create an easy-to-read but ever-so-pertinent outing for emerging readers. Jasper's issues and plans are readily recognizable for the target audience, and good humor infuses all of it. Black-haired Jasper's sweetly diverse neighborhood charms.

Another winning entry in an altogether satisfying series.
This installment will have kids laughing out loud as they're learning how to treat library books responsibly.
Children will doubtlessly enjoy the story.  They'll be entertained by Jasper and Ori's pet reading sessions, horrified by the burning book, and excited by their toast restaurant…  An excellent book packed with knowledge, ideas and lots of fun!! All the stories in the Jasper John Dooley series are engaging and written in simple language which makes them ideal as early reading chapter books.
This is the sixth book in the Jasper John Dooley early chapter book series, and it's adorable; great for young readers who are ready to advance from Easy Readers to chapter books. Jasper is very likable, and his reasoning will click with readers… Good role models, sweet humor based on misunderstanding, solid discussion points make this a good addition to your series collections.
[A]s always, Jasper's imagination and ingenuity are wondrous as he works to resolve his perceived problem with the library.  And Jasper John's excellent library, with its innovative lapdog program and approachable librarian, should serve as a reminder to all readers to visit their own local library.  Additionally, all readers should appreciate Ori's lesson about the importance of the decimal point.  Highly recommended.
Fans of the previous Jasper John Dooley books will enjoy his new adventure. A fun school series that is perfect for children moving into chapter books.
Jasper is a fun and funny little boy.  I like Adderson's style, telling the story consistently from Jasper's perspective.  His little boy logic for taking care of the damaged book, his misunderstanding of the price on the book cover, his schemes to raise money to pay for the book, and his fear of the consequences are amusingly silly… Readers will enjoy reading about his problems with his library book and will want to read about his prior mishaps as well.
This is the sixth book featuring Jasper John Dooley, his family and friends. The latest has made us laugh out loud, particularly in Chapter 4. Jasper John's dad will never borrow one of my books.
Jasper John Dooley Public Enemy #1 is brilliantly written by Caroline Adderson, Mike Shiell captures the feel of the book beautifully in his illustrations. Every young man should have a series like this in his young life, every classroom, every library should stock this book. Boys deserve a series like this one and I am so thankful that we have found Jasper John Dooley!
— A Cup of Tea and a Cozy Mystery
Jasper John Dooley has a unique and very quirky way of looking at the world, which adds a lot of humour to his narration and causes him to come up with very creative and unusual solutions to his problems, which helps this book stand out a bit from other beginner chapter books. It is also nice to find a book with a plot which is centred around excitement about libraries and reading! Overall, Jasper's adventure is a good read for elementary school-aged readers thanks to its fast-paced plot and funny main character.
— Resource Links
Just right for early readers, and highly anticipated by any kids who have read other Jasper books, this book is a sure-fire winner. It will not find its way back to your library shelf until it has made the rounds. Read it at home on these long, lazy summer nights … you will laugh out loud and your kids will beg for more of the same.
The illustrated chapter books in acclaimed author Caroline Adderson's Jasper John Dooley series are perfect for early readers.  To Jasper, everything is an adventure and his quirky and unique point of view is laugh-out-loud funny.  Here, Jasper clearly feels accountable for the library book entrusted to him, making this a great character education choice for discussing responsibility as well as how everyone makes mistakes.  This book will be much sought after for independent reading, though it's also an excellent pick for read-aloud.
It is a book that will have children and parents both laughing out loud. It would be great to read together or alone. It is one that I'm sure will become a favorite story of many kids.
I like the pictures and I like the way Ori and Jasper work together to find things out. They come up with a good solution at the end. This is a funny and fun book about funny things that happen to a regular kid. It is probably written for someone younger than me, but it is interesting and fun to read. Reviewed By: Rachel, Age 9