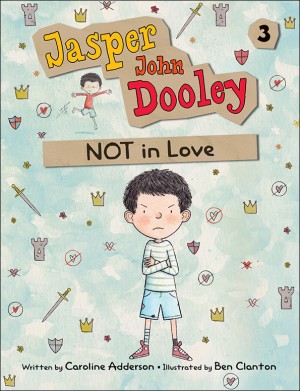 Isabel loves Jasper, and it's making life complicated.  He just wants to play knights and dragons with Ori and Leon, but Isabel makes him play babies and tries to set up their wedding.  The only good thing about Isabel is the trampoline at her house.  But will the highs of their trampoline playdates be enough to cure Jasper's girl-itis?
Jasper John Dooley, NOT in Love is the third in a series of chapter books featuring the charismatic and funny Jasper John.
Buy Jasper John Dooley, NOT in Love at Amazon.ca or find a local bookstore.
Publishers' link: Jasper John Dooley, NOT in Love at Kids Can Press
WINNER of the 2015-2016 Chocolate Lily Book Award!!!
Nominated for a 2015 Diamond Willow Award
An Ontario Library Association 2014 Best Bet
A Kirkus Review Best Children's Book of 2014
A Best Book for Kids and Teens 2014 Starred Selection
OLA Best Bet Junior Fiction Honourable Mention 2015
Praise for Jasper John Dooley, NOT in Love
Adderson perfectly captures the trials of early childhood, and with brief text and a simple vocabulary, she breathes full life into her cast of characters, from Paul C., new to the school and hiding behind a library book at recess, to Ori, Jasper's best friend, whose common-sense approach is hilarious, and even to Isabel, a bit wild but fully recognizable…  Another chapter book that will readily brighten the day of emergent readers—or adults offering an extended read-aloud. (Fiction. 5-8)
— Kirkus Reviews (starred)
This short novel is a triumph of its kind, suffused with refreshing, intelligent wackiness. Each character is precisely drawn; Jasper is eccentric, enthusiastic, and realistic, and so is Isabel, with her interests in babies and marriage, trampolines, and drum sets. This third volume confirms the series' exceptional subtlety and high literary quality.
— Quill and Quire (starred)
Jasper John Dooley NOT in Love is the third in an engaging series that gets inside a little boy's head and looks out on a mad, mad world. Caroline Adderson has nailed it. These kids walk, talk, scheme and worry just like their real-life counterparts―with lots of laughs along the way….  Readers will recognize their own lives and chuckle and groan as each chapter brings another cringe-making episode in Jasper's love life (NOT!). Ben Clanton's comical drawings dovetail into the child's perspective―they could have been drawn by Jasper himself to illustrate his own story.  I have only one question for Caroline Adderson: When is the next one coming out? I can't wait.
— The National Reading Campaign
Jasper John Dooley NOT in Love is an excellently written and humorous read-aloud chapter book for young children. They will be surprised and delighted by the story's wonderfully perfect, character-driven plot twists. Through the thoroughly engaging dialogue and actions of Jasper John, Isabel, Ori, Mom, Dad, Nan, and Paul, the author touches convincingly on various social issues from gender stereotyping to respect, jealousy, and exclusion.
Jasper John Dooley, the boy who brought us laughs with his sensitive yet eccentric sevenish-year-old perspective, returns in this exceptional series for young readers… This series would make a delightful read-aloud for the classroom and should be found on all school and public library bookshelves.
— Canadian Children's Booknews
This is an amusing chapter book for younger children which paints a realistic picture of the problems of finding one's way in early elementary school life.
— Resource Links
This third book in the Jasper John Dooley series, following Star of the Week (2012) and Left Behind (2013), is the best one yet. Every character, from Isabel's babysitter to Jasper himself is well-developed and believable. The author has a wonderful ear for six-year-old dialogue and an obvious affection for young children.
The cast of characters are appealing and recognizable. The storyline is hilarious and I am sure many kids will be able to identify with it.  Will Jasper be able to hatch a plan to put this crisis behind him?  Will he succeed in convincing Isabel that he is not in love with her but just wants to be left alone with his friends?  With the help of his loving parents, his grandmother and his friends his world is finally reconfigured and he does get his life back to normal.  Whew!  Love can make life complicated can't it?
I liked this book and laughed out loud when I saw the picture of Isabel in chapter 11 after Jasper connected her dots with a permanent marker! That was so funny! There aren't a lot of pictures, but it has a couple in each chapter. I think boys and girls will both like this book. I'm glad I read this book and I will definitely read it again!
— San Francisco Book Review (by Olivia, Age 8)
Jasper John Dooley is a fun character and I'd love him to meet Clementine… In all three books, Jasper John Dooley is a creative boy who can figure out quirky ways to solve some normal day today life problems.  I think he will be a perfect addition to my classroom library.
Engaging characters, pitch-perfect dialogue, humorous everyday experiences … this series has everything to attract young readers. Perfect for those wanting to read more complex text on their own, and absolutely wonderful to read aloud to your family or your students.
Adderson has a gift for getting inside a little boy's head, and I kept turning the pages just to see what he'd do next.  It was fun to see one very determined girl turn Jasper's whole world upside-down.  I laughed and groaned, and I'll cheerfully give Jasper John Dooley: Not in Love ten of ten stars.