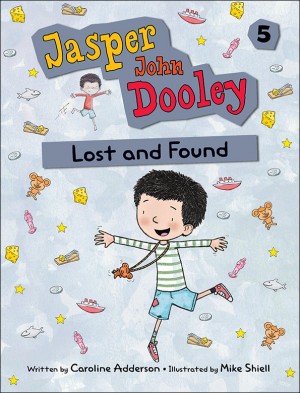 Bored of hide-and-seek and knights, Jasper and his friends invent a new recess game – treasure hunters. But it's not until later, during a visit to his Nan's, that Jasper digs up a real treasure: Marcel Mouse, his dad's all time favorite toy from when he was a kid. Jasper wears the little orange plastic mouse on a string around his neck. Marcel swings in crazy loops. He has his own catchy song. And best of all, he's an adventuring mouse.
But Marcel is tricky, too. First he goes missing from under Jasper's pillow, then he gets sent to the principal's office and disappears again! As Jasper hunts high and low for Marcel, he has an adventure of his own, discovering the secrets of toilet water and a forbidden video game. Then something terrible happens, and it seems Marcel might be lost forever…  Will Jasper ever see Marcel Mouse again?
Nominated for a 2015 CYBILS Award
OLA Best Bet Junior Fiction Honourable Mention 2015
Buy Jasper John Dooley, Lost and Found at Amazon.ca or find a local bookstore.
Praise for Jasper John Dooley, Lost and Found
This is the fifth title in the popular series by author Caroline Adderson about the irrepressible Jasper John Dooley. With his own quirky view of the world and those around him, Jasper is a one-of-a-kind character with huge kid appeal. His sometimes baffling but always courageous way of dealing with problems is unique, as is the way Jasper's parents are always available to help out and support him. For beginning independent readers, the endearing line drawings by Mike Shiell throughout help keep the text manageable. This would be a great title to use for discussing the subject of loss and the feelings surrounding it.
Jasper John Dooley, Lost and Found, is the fifth in Caroline Adderson's series of excellent read-aloud chapter books for children from kindergarten to grade two. Jasper John's character is consistently unique and endearing. And – for those who need comic relief – Adderson is adept at adding potentially laughable elements to Jasper John's worst moments… Jasper John Dooley, Lost and Found, is an entertaining read-aloud and an engrossing story for those starting to read chapter books on their own.  Highly Recommended.
This is the fifth book in the series about this loveable rogue!..  It is a captivating and amusing read with a relatively simple vocabulary ensuring it is entertaining and accessible for any developing readers who are ready for longer stories.
Lost and Found was a charming little book. It's perfect for children who are transitioning from picture books to chapter books…  One of the things that I really love about this series is that it will appeal to boys… Many of the series that do have a male protagonist feature naughty little boys. It's so refreshing to have a realistic little boy; Jasper is not always perfect, but he tries his best to do the right thing.
Jasper John and his friend Ori are both very real, believable kids that most early elementary school boys can relate to. Jasper's love for his toy is also a very relatable feeling, and any child who has ever lost a toy can attest to the realism of the sadness Jasper must endure. (I lost a tiny doll named Pinky to the vacuum cleaner when I was less than four years old, and it still bothers me!) Kids will also like the very unlikely ending of this story, which makes up in happiness what it lacks in plausibility.
Literary Merit: Characters with personality! And a little science lesson on toilets, water treatment plants, and ocean currents.

Kid Appeal: The Marcel Mouse tune is catchy and I can see kids singing it long after the story is finished. Real life school, playground, and family situations will hold kids' interest as they read too.
– 2015 CYBILS Award Nomination Review
I like this book because it's really fun and exciting, and I like the pictures. It was a good story, because it was hard for Jasper to decide to do what was right and tell his uncle what had happened, but he made the right choice in the end. I also liked all the funny adventures that the toy went on, and I like Jasper and his family and friends. I want to read more books in the series as soon as I can!  Reviewed by Rachel, Age 9