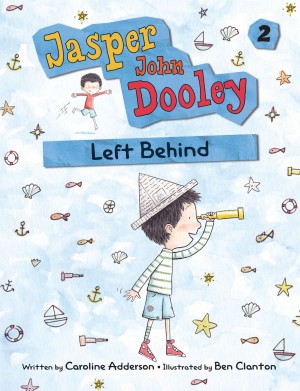 Jasper John Dooley's beloved Nan is leaving on a cruise for a whole week! He feels so pththth. All he can think about is Nan missing out on their Wednesday card game, and whether it's raining where she is, too, and if she will ever come back. But each day something happens, from a stapling mishap to a hamster escape, and Jasper realizes that waiting for someone to return from an adventure takes forever … unless you're having an adventure, too.
Jasper John Dooley, Left Behind is the second in a series of chapter books featuring a charismatic and funny central character. An only child with active, loving parents (and a most impressive lint collection), Jasper John Dooley is a true original.
Nominated for a 2014/2015 Chocolate Lily Award
A Kirkus Review Best Children's Book of 2013
A Best Book for Kids and Teens 2013 Starred Selection
OLA Best Bet Junior Fiction Honourable Mention 2015
Buy Jasper John Dooley, Left Behind at Amazon.ca or find a local bookstore.
Publishers' link: Jasper John Dooley, Left Behind at Kids Can Press
Praise for Jasper John Dooley, Left Behind
After Jasper John Dooley's beloved Nan goes on vacation without him, he goes pththth.  It feels just like when the air leaked out of his beach ball. At school the next day, he writes a story about a snake that gets stepped on a lot. The story is so long that it needs staples, but he accidentally staples it to his stomach. That eventually somehow necessitates a full 28 Band-Aids, since it just keeps feeling like the air is escaping from his sad body, possibly through the staple holes…  As in Jasper's first outing (Star of the Week, 2012), nothing truly compelling happens, but the concerns of this early grade schooler are so aptly, charmingly and amusingly depicted that it's impossible not to be both captivated and compelled. Clanton's simple black-and-white illustrations feature skinny bodies, oversized heads—and lots of smiles. Early chapter book or read-aloud, this effort will leave its audience with lots of smiles, too.
Adderson has a real sense of the strange, inventive imaginations (and emotions) of 7-year-olds, and Jasper's adventures are funny, unpredictable and utterly convincing. A worthy successor to the exceptional Jasper John Dooley: Star of the Week.
One of Jasper's favorite things to do is to spend Wednesdays with his Nan, riding the elevator up and down, playing Go Fish, and eating jujubes. When he learns that his grandmother is going on an Alaskan cruise for a week, he is worried that she might never come back. The worst part is that he has to stay with a baby-sitter on Wednesday. It's a busy week while Nan is gone, though, as Jasper accidentally staples his stomach, attempts to build a cruise ship with a friend, and takes the class hamster home for the weekend. Emerging readers will enjoy following along with the quirky, charismatic boy and his friends and family in this humorous adventure.
— School Library Journal
… [A] touching, funny story, pleasurable for child and adult alike, that can be shared in a classroom or at home… If Adderson and Clanton maintain the excellence of the series – and publishers, booksellers and librarians make sure to get them into children's hands – the Jasper John Dooley series could become a modern Canadian classic.
— Canadian Children's Booknews
This book is so funny! I laughed out loud several times at Jasper's antics. He has a unique way of viewing the world and I just love it.  The story itself doesn't have much of a plot, but kids will enjoy Jasper's daily adventures. He is very dramatic.The illustrations are charming and fit perfectly with the humorous and upbeat feel of the book.  This is a great chapter book for kids that enjoy humor and a little wackiness.
Fans will relish the return of Jasper and his irrepressible spirit.
I thought it was such a cute book. I love how you can realize how kids you know or yourself were when they were little, while you were reading the book. I recommend this book for third graders and fourth graders.

This Book is about Jasper's grandma going on a cruise, and Jasper thinking what he is going to do while his Grandma is gone. Jasper does many things while his grandma was gone, but when his grandma comes back, he couldn't be happier.
— Columbus Dispatch Kid Readers (a grade 5 reviewer) 
…(A) good read-aloud 'chapter book' for both parents and teachers of young children. Jasper endears himself to readers through his unique and inventive approach to life's tribulations.
I liked the first Jasper John Dooley book very much, but this one was even better. This time around, I felt like I got a great sense of Jasper's quirky personality and his unique outlook on life.  Kids who are attached to their grandparents, or who have ever been forced to endure any kind of separation from a beloved family member will sympathize strongly with Jasper…
In this charming second book – which I might like even better than the first! – Jasper is bidding his grandmother farewell as she leaves for a cruise…This book makes a great read aloud to K-2nd graders and also a PERFECT early chapter book if kids in that age group can read.  We have too few solid books about boys in this category.
A great beginning chapter books for the younger reader.
This easy reader is sweet, funny and touching and is sure to be loved by children ages 5 to 8.
Engaging characters, pitch-perfect dialogue, humorous everyday experiences … this series has everything to attract young readers. Perfect for those wanting to read more complex text on their own, and absolutely wonderful to read aloud to your family or your students.
This is a sweet and funny book for grandparents to share with their grandsons (in person or as a gift), and it truly celebrates the special relationship that often happens between grandparents and grandchildren. There are too few solid books about boys in the illustrated chapter book category. This is one of them.
This easy reader is sweet, funny and touching and is sure to be loved by children ages 5 to 8.