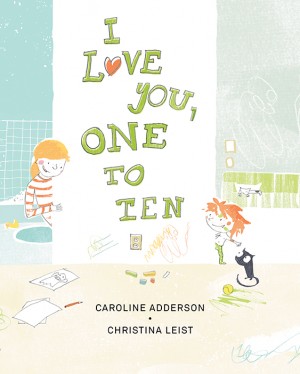 How do I love you, little one? 
Let me count the ways …
In this simple poem, a mother describes the ten things she loves about her young child. From his scaly elbows and knees all the way to his twitchy tail, every inch of this little "monster" is admired and appreciated. Gentle, humorous illustrations show how one tired parent decides to participate in a bit of rowdy play at bedtime, with the result being a happily tired youngster and a mother who is even more in love with her child. A delightfully unconventional bedtime story.
Publisher's link: Groundwood Books.

Buy at Amazon.ca or find a local bookstore.
Praise for I Love You One to Ten:
Inspired by Elizabeth Barrett Browning, a lullaby of love from the mother to the rumbustious child. Adderson gets similarly emotional with her counting of the ways, from the moment she gathers steam—"Two, your eyes, / googly, bright"—to the rapture of "Seven has to be / your elbows and knees, / dimpled and scaly, / more places to kiss!" But there are clues that this is no gushfest. "Eight is your sturdy hump, / small now, but it will be big"; the green-pajama–clad is playing at being a dragon. The sudden shifts in tone—a swooning "so perfect!" to the ridiculous "your chins are Four. / Four chins!"—allow the mother's unconditional love to range freely.
I Love You, One to Ten is a very cute book for younger children as they will likely see themselves and their innocent, carefree lives reflected in the pages.  Recommended