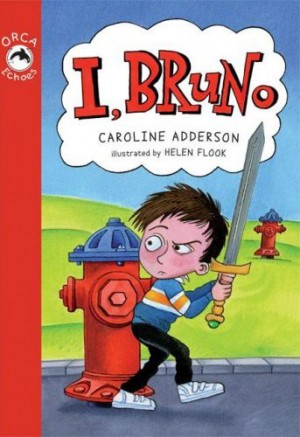 Seven year-old Bruno is not slowed down by anything, even when his street is lined with fire hydrant dragons. He spends one day as Sir Bruno and another as the Queen. He sells chats to firemen and knows several dialects of Car. And while he may think his name is too long to bother writing on his homework, he is perfectly content to be himself. Bruno is a boy worth knowing!
Nominated for a 2008/2009 Chocolate Lily Book Award
Nominated for a 2009 Shining Willow Award
A Best Books for Kids and Teens 2009 Starred Selection
Buy I, Bruno at Amazon.ca or find a local bookstore.
Download the I, Bruno teacher's guide from Orca Books.
Praise for I, Bruno
[A] series of delightful short vignettes from the life of an imaginative little boy, named Bruno, who is very happy to be himself… Adderson, a newcomer to children's writing, successfully creates a loveably unique character reminiscent of the favourite characters from the "Little Bear" and "Frog and Toad" series for young readers… Bruno is fresh and stereotype-free… Highly Recommended.
—Canadian Materials
These discrete stories bring to rich life an appealing little individual… Adderson writes with poetry, colour, and a real flair for zany description that lends itself to being read aloud.
—Canadian Children's Book News
This is a very enjoyable and humorous story… I recommend this book to any primary teacher.
—Resource Links
What kids will love:

Bruno's imaginative take on life

Following along with Bruno's relatable adventures (who hasn't had the hiccups?)

The funny drawings (e.g. Bruno being held upside down to try to cure his hiccups).