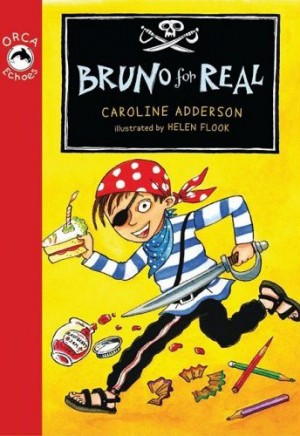 The sequel to the highly recommended I, Bruno, Bruno For Real continues the real-life adventures of seven year-old Bruno. Tackling problems with his trademark originality, Bruno defeats hiccups. He skillfully avoids math. And thanks to his special flutter kick, he easily advances to the next level – in swimming and in life! Bruno is ready for any challenge as he learns all there is to know about being a boy.
Buy Bruno for Real at Amazon.ca or find a local bookstore.
Download the Bruno for Real teacher's guide from Orca Books.
Praise for Bruno for Real
As with I, Bruno, Caroline Adderson effectively evokes the perspective of a seven year-old boy through her simple text and precise word choice… Adderson celebrates a child's imagination in a realistically humourous way… an excellent addition to the young reader's library. Highly recommended.
—Canadian Materials
Bruno has so much personality he almost leaps off the page, and the energy of the book matches its main character, Bruno. Bruno's hijinx are entertaining and true to life, with every chapter a fast-paced, self-contained story… Highly recommended for school and public libraries.
—Resource Links
Pick up this book of lively tales for your little one and you won't be disappointed.  You will also get practical tips on getting rid of hiccups, on being really bad (like eating the arms and legs off a gingerbread man BEFORE the head) and on communing with nature, bartering, oh, and insomnia.
– Word of Mouse Books  Read the review.
…Bruno tackles daily life with a great sense of humour and originality… an appealing transitional chapter book.
—Puget Sound Council for Reviewing Children's Media
Young readers will enjoy Bruno's funny stories, short chapters and cartoon illustrations.
—Southwestern Ohio Young Adult Materials Review Group
What kids will love:

Bruno's imaginative take on life

Following along with Bruno's relatable adventures (who hasn't had the hiccups?)

The funny drawings (e.g. Bruno being held upside down to try to cure his hiccups).