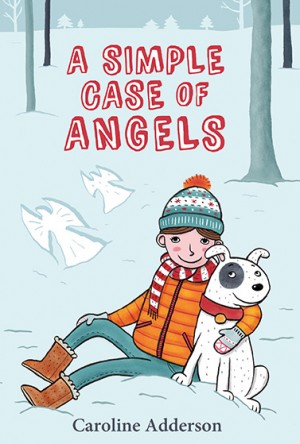 Nicola's adorable little dog, June Bug, keeps getting into trouble. She steals the neighbour's turkey, yanks down the Christmas tree and destroys Mom's almost-finished giant crossword. Everyone is in a bad mood, including Nicola's big brother Jared, who holes up in front of the computer playing Inferno 2, eagerly sending winged creatures into a fiery abyss.
When Nicola overhears her father say, "It's not working out with that dog," it looks as though June Bug's days are numbered.
Or can a good deed make up for June Bug's bad behavior?
Nicola certainly hopes so. And when she and June Bug come across a new nursing home in the neighborhood, it feels like a Sign. They volunteer as regular visitors to Shady Oaks, certain that June Bug's cute tricks will cheer up the elderly residents.
But something unusual is going on at Shady Oaks, where it seems that a few of the more remarkable residents are being kept against their will. Helping them just might redeem June Bug, as well as bring out the best in Nicola.
Publisher's link: A Simple Case of Angels at Groundwood Books
Buy A Simple Case of Angels at Amazon.ca
Watch the book trailer.
A Best Book for Kids and Teens 2015 Selection 
A Junior Library Guild Selection
Praise for A Simple Case of Angels
Characters are gloriously quirky… Nicola navigates concepts of hell and goodness, looking for reasonable answers to ponderous questions.  Though paranormal explanations are only gently hinted at, the angelic twist at the conclusion is satisfyingly appropriate and more about human goodness than evangelizing—entirely in keeping with the book. 
A story based on a highly original concept, A Simple Case of Angels presents sympathetic characters, especially Lindsay, who has a "Feel Better Box" made from a refrigerator carton in her bedroom, to which she retreats when feeling sad. Nicola, herself, is strong-willed and well-meaning, while the nursing home patients are intelligent people trapped in uncommunicative bodies…  [T]here is a real feeling of something profound here, an important message, and with occasional references to angels in various religions, it is all done without any sense of overtly Christian moralism. 
Versatile author Caroline Adderson astutely captures the range of emotions and perspectives of young adolescents as they awaken to a grown-up world in her latest effort for middle-grade readers… Adderson plumbs the depths of young friendship with conviction as she handles some of life's big questions… We're given a solid cast of characters, but Lindsay, especially, is wonderfully quirky… Readers will appreciate the degree to which Adderson gets early adolescence right in this precocious coming-of-age story.
Caroline Adderson keeps the story moving with terrific dialog and a lot of action.  The reader is instantly smitten with the likeable main character and feels like he or she is part of the story.  Of course there are some angels in the story too, but you'll have to read it to find out just who they are.