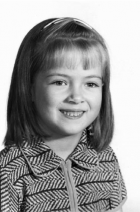 Caroline Adderson grew up in Sherwood Park, Alberta, at a time when it was surrounded by farms and acreages.  The housing development where she lived was buffered by woods.  She and her friends ran wild there and only came home to eat.
When she finished high school, Caroline left home to spend a year traveling around Canada with the youth program Katimavik doing all kinds of jobs like sheep farming and carpentry and working in a community radio station.  She came to Vancouver to attend university and, except for a year spent in New Orleans and another in Toronto, she has lived in Vancouver ever since.
Caroline first began writing for adults.  When her son was five she wrote some simple stories based on the adventures they shared.  Eventually these were collected in her first children's book, I, Bruno.  She later wrote a sequel, Bruno For Real, then began to get a lot of ideas for other books not based on real life.  Lots and lots of ideas!  She has now published fourteen books for kids.
Caroline writes for readers of all ages every day.  She also does a little teaching at Simon Fraser University and hangs out with her husband and the son who lied to her when he promised he'd always be seven.  (He's a teenager now!)  For fun, Caroline writes, reads and walks Mickey, her Jack Russell terrier.  She also likes to garden, cook and travel.  She's interested in almost everything except watching television.
Her advice to young writers is to read, read, read and write, write, write, and never get a Jack Russell terrier.