Soon I'll be doing school presentations for my latest book Jasper John Dooley, Star of the Week.  In the story Jasper, who is an only child, decides that his family is too small and sets out to make himself a brother out of wood.  This idea came from real life.  When my son was in Grade One he also made himself a wooden brother with help from his grandpa.  Like Jasper, my son brought his wooden brother to school and presented him as his "Montre et Racontre" (French Immersion Show and Tell).  Here he is: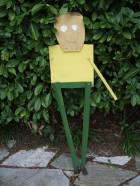 This was the wooden brother I had in mind when I was writing Jasper John Dooley, Star of the Week, with one difference.  In the book the wooden brother, Earl, has "a purple face".
The illustrator of Jasper John Dooley, Star of the Week, the wonderful Ben Clanton, had a different Earl in mind.   Since my son's original wooden brother is precious to me, not to mention a bit fragile (you can see he has already lost an arm!), I decided to make a new wooden brother that looked more like the one Ben drew.  I also decided I would make Earl the way Jasper made him in the book, using only materials I already had.   This is how I made the Earl who will be visiting schools with me.

1. I found some wood scraps.

2. I cut out pieces of Earl using Ben Clanton's design.

3. I attached Earl's feet to his legs and neck to his body with screws.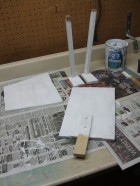 4. In the book, Ben Clanton draws Earl unpainted.  (Ben, you didn't read very carefully!  Earl has a purple face!)  I primed Earl first, which means I painted him completely white.

5. Since I had to paint Earl's face purple, I decided his arms and legs should match.  I gave him a yellow and white striped shirt as well.  I used the same yellow as my son used to paint his wooden brother.

6. I copied Earl's face very carefully from Ben's drawing.  I used wood screws for his hair.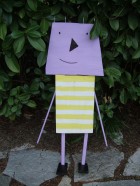 7. Luckily, I had some velcro.  Here is Earl stuck together, ready for my presentations.
And here are the two wooden brothers, friends!