One of the best things about being a writer for children is the excuse it gives me to read children's books. I confess that I often enjoy reading children's books a lot more than adult books. I also love to reread the books I remember from my childhood, for fun, and to find out who I really was way back when. In this not-very-regular blog you can read about my childhood favourites as well as the new favourites I've discovered as a grown up reader of kids' books.
The Kingdom of Carbonel by Barbara Sleigh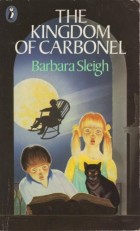 Here are three magic stories about this magic book.
Magic Story #1
On Saturday mornings the arts program on my local radio station airs a feature called "Librarian Sleuth."  Listeners write in to get help remembering the titles of favourite books they read as children.  Every few months a children's librarian comes on to answer these questions and sometimes even help track down the books.
Until about six months ago, whenever "Librarian Sleuth" came on, I would say to myself, "I must write in about The Kingdom of Carbonia."  That, anyway, was how I remembered the title of this wonderful book my mother read to my sister and me when I was about five and my sister eight.
One morning during "Librarian Sleuth," just as I was thinking, "I must write in about…" the librarian sleuth began to read out a letter that started something like this: "I remember a wonderful book where two children bought a coloured medicine that allowed them to hear the language of cats."
"That," the librarian sleuth answered confidently, "is The Kingdom of Carbonel."
And that is the correct title of the very book I was thinking of at that moment.
Magic Story #2
I immediately went to my computer to order The Kingdom of Carbonel.  Normally I would go to my local bookstore, but I thought that this book, being quite old, would be out of print.  When I order books on the computer, I usually have them sent to my sister who lives in the United States, because the postage is much cheaper.
A week later she phoned to tell me that a package had arrived for me.  I told her that she should open it, because it contained that wonderful book from our childhood, The Kingdom of Carbonel.  My sister gasped.
Because just a few days before she had learned that The Kingdom of Carbonel had been republished.  She had gone right out and bought a copy for her son.
Magic Story #3
A few months after that a received a darling Christmas card hand-drawn by the ten-year-old daughter of a friend.  It showed two cats whose long tails coiled up a Christmas tree like tinsel.  I wrote back to my friend to say that her daughter was a wonderful artist and that, if she really liked cats, she might like this wonderful book from my childhood that I had just re-read, The Kingdom of Carbonel.
My friend wrote me right back to say, "It's funny you mention The Kingdom of Carbonel because we only just read it."
I don't think I need to say more than this about The Kingdom of Carbonel, by Barbara Sleigh.  All you need to know is that it is about cats and about two children, John and Rosemary, who are lucky enough to be chosen as temporary protectors of the King of the Cats's two kittens.  And if you read this wonderful book, you will certainly very shortly meet someone else who has just read it and loved it, too.
Love That Dog by Sharon Creech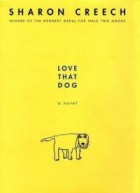 If you love poetry— No!  If you hate poetry.  Or if you think you hate poetry, this is the book for you.  You will not even know that you are reading poetry!  It will just seem really easy because there are so few words on the page.  This book will fool you, because not only will you be reading poetry without even knowing it, you will be reading a book about poetry without even knowing it!
Now, if you love dogs, I should warn you.  The dog in the title doesn't come into the book right at the start.  You will probably forget that you're reading a book about a dog (and poetry) and think you are reading about a boy who is stumped by the writing assignments his teacher gives him.  But the dog is very much in the book, in the background all the time, wagging. So if you're like me, you may want to have a box of tissue handy.
Love That Book.  That's what I have to say about it.  My dear friend Allison gave me this book in 2004.  We were both very grown-up by then, but it's one of those books I wish I had read as a child.  I hope you will.
From the Mixed-Up Files  of Mrs. Basil E. Frankweiler by E. L. Konigsburg
Though I'm not sure I ever read this book as a child, I've read it three times as an adult; it's one of my favourite books ever.  Period.  For so many reasons!
First, Konigsburg writes like a dream.  Her sentences (and don't forget that's what a book is, a collection of sentences) are clean and crisp.
Second, the brother and sister team of Claudia and Jamie are utterly real, their banter true-to-life and so funny.
Third, I loved Claudia's secret desire, which grows and changes over their adventure.  She and Jamie run away to the Metropolitan Museum of Art in New York City, sleep in a 16th century bed, bathe in the fountain and accidently stumble upon a mystery the whole Art World is trying to solve.   "I want to go back different.  I, Claudia Kincaid, want to be different when I go back.  Like being a heroine is being different," she tells her brother.  Isn't that what we all want, young and old, to be recognized as the unique people that we are, to be the heros and heroines of our own lives?
Fourth, I love the structure of this book, which is a letter from the cranky and very rich Mrs. Basil E. Frankweiler to a person who turns out to be important to the two runaways.
Fifth, just read it.  You will find your own unique reasons to love it.
Rascal by Sterling North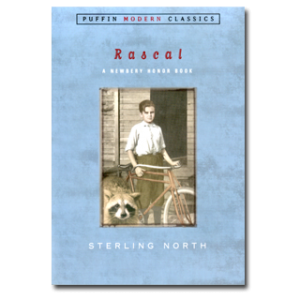 A number of years ago I spotted Rascal on the sale table in a bookstore—Rascal the book, not the raccoon! (But imagine the raccoon hunched there, carefully turning each book over in his little hands, riffling the pages, sniffing them, then tossing the book aside…)  I remembered loving this book when my mother read it to me as a child, though the story itself I had completely forgotten.  I bought it and read it right away.
Rascal is the memoir of one year in the childhood of author Sterling North, his eleventh, in 1918.  Sterling's mother died when he was seven, his two grown sisters have moved out and his older brother is fighting in the World War I trenches of France.  This leaves Sterling and his father who, Sterling writes, "allowed me to live my own life," and Sterling's menagerie, a 170-pound St. Bernard named Wowser, "many cats," pet skunks and woodchucks and Edgar Allen Poe the talking crow.  It is Wowser who digs out a family of raccoon from the base of a tree, separating the mother and babies.  Sterling attempts to catch the mother (bare-handed!) and reunite her with the kits, but fails.  The mother runs off, trailed by three of the babies, leaving Rascal behind.
Rascal joins Sterling's menagerie but soon moves inside the house, eating in a high chair at the table and sleeping with Sterling.  I think what must have thrilled me as a child were the near-human abilities of this strawberry-pop-drinking creature (not to mention the wonders of this olden-days bottled treat), who goes everywhere with Sterling in the basket of his bicycle, or on his shoulder.  Rascal even helps with the war effort, gathering scraps of tinfoil from the gutters.  (Raccoons are attracted to bright objects; foil and metals of all kinds were collected for the manufacture of guns and tanks.) I must have thrilled at the extraordinary freedom enjoyed by Sterling as much as the charming companionship of boy and raccoon.  Sterling's father takes him on a camping trip, during which time he has to testify in court in a town twenty miles away.  He leaves Sterling and Rascal in the woods alone all day long for two weeks, only returning in the evening, which doesn't trouble Sterling as he is routinely left at home this long while his father is away on business.
I, the adult reader, especially loved the intimacy with nature that Sterling North, the adult author, so vividly recounts.  But kids will be drawn to the world depicted in the book, one better than any wizardly fantasy, where a child might live free of adult interference (mostly) with a raccoon as his best friend.
Rabbit Hill by Robert Lawson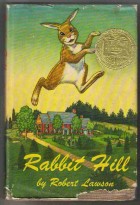 On my recent Canadian Children's Book Week Tour in Ontario I was poking around the library at Beaver Valley Community School in Thornbury when I noticed a poster showing the covers of all the books that had won the John Newberry Medal.  I recognized many, but one jolted a memory out of me: me around age five, leaping into bed, just as the rabbit on the cover is leaping over the Big House, so excited to be hearing the next instalment of Rabbit Hill.  It made me realize how many memories of my childhood reading involve being read to by my mother, usually in bed, and how because of that I associate reading with warmth and physical closeness and love.  And something else too, which was reinforced when I came home and reread Rabbit Hill: how intrinsic the illustrations are to the reading experience for a young child.  While the parent reads the words, the child reads the pictures, so it is often the pictures, not the words, that take root in the memory.
I had no recollection of the story told in Rabbit Hill. In fact, the story really is secondary to the marvellous illustrations.  Lawson, best known as an artist, illustrated the work of many other writers, though he himself is so far the only author to have won both the Caldecott and the Newberry Medals.  The story opens with the Little Animals on Rabbit Hill "boiling with excitement" because "New Folks coming."  For years the Animals who live around the Big House endured "shiftless" tenants who did not even plant a garden.  Worse, the Big House was then abandoned and all the animals have been hungry ever since.  Maybe the New Folks will be planting Folks.  As the Animals watch the various workers restoring the farm to habitable condition, their excitement grows.  Finally, the New Folk arrive and, contrary to the expectations of this reader, they do not disappoint.  The New Folk's garden is unsurpassed.  They even plant the Kentucky bluegrass that Father Rabbit, a Southerner, prefers.  These are true animal lovers who wish only to co-exist with their four-legged (or winged) neighbours for whom life improves and improves.  Because of this, there is almost no conflict in the story until two thirds of the way in when something awful happens to Little Georgie.  Until then, the story is propelled by the charm of the animal's distinctive personalities – Phewie the Skunk, Porkey the Woodchuck, and Uncle Analdas, among others – and Lawson's gorgeous pencil drawings.  Here is my very favourite, all the Little Animals singing Little Georgie's song.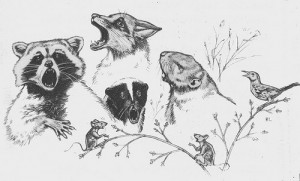 And here is Little Georgie singing it!  You can too!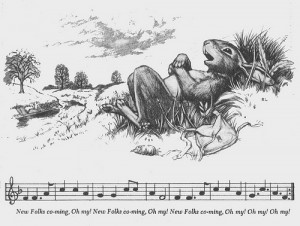 Harriet the Spy by Louise Fitzhugh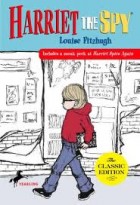 I first read Harriet the Spy when I was eleven, the same age as Harriet M. Welsch, whose influence on me was enormous. I began to go around with a spy notebook of my own, as did many of my friends.  I assembled a spy outfit, like Harriet's, to wear while spying.  I became fascinated with dumbwaiters.  Perhaps I had seen one on TV when my parents watched Masterpiece Theatre, but never in real life.  The thought of riding in one the way Harriet does when she spies on Mrs. Plumber seemed indescribably daring.  I wasn't (and am still not) claustrophobic, obviously.  In fact, at the age of eleven one of my favourite after-school hiding places was the bottom of the linen cupboard where I would curl up to eat a sickening concoction of margarine and brown sugar.
I reread Harriet the Spy in my twenties and enjoyed it just as much, though I was still too close to my eleven-year-old self to be able to stand back from the book the way I can now as a children's writer in my fifth decade.  What makes Harriet the Spy an enduring book is Harriet.  In a kid-lit universe full of goodie-two-shoes protagonists and saccharine themes, Harriet breaks the mold.  She is, for one, not very nice, judging everyone in her notebooks, daring to write things most people only dare to think.  Her frankness and her political incorrectness are mildly shocking and delightful.  (Speaking of the circus, for example, she writes, "I love the freaks.") With her strict adherence to ritual (only tomato sandwiches for lunch, cake and milk after school every day) and her inability to comprehend the hurt her friends feel when they read about themselves in her notebook, suggests that Harriet may actually be the first child with Asberger's Syndrome to appear in children's literature.
The secondary characters are just as marvellous: Janie, with her chemistry set, whose goal is to blow up the world; Sport, the de facto parent for his starving-writer father; Ole Golly, her nanny, who has a quotation for every situation; and Mr. Welsch, a Broadway producer, constantly grumbling about show business.  "Finks, finks, double-barreled rat, rat, rat, finks, finks, finks."  I haven't heard the term "rat fink" since 1970.
Thematically, Harriet the Spy is also ahead of its time.  Back in 1964, when this book was published, there was no label for what Harriet endures as a consequence of her notebook being taken from her and read.  Back in the Sixties, kids routinely ganged up on their vulnerable classmates.  Harriet, normally a force to be reckoned with, is rendered temporarily vulnerable when Ole Golly leaves the household to get married.  Then, with the loss of her notebook, she is incapacitated.  Fitzhugh presents a wonderfully nuanced conflict, instead of a one-dimensional, messagey book about bullying.  The fact is Harriet has written dreadful things.  It's no wonder everyone turns against her, and as her shunning gradually becomes abusive, Harriet implodes at the same time she refuses to be a victim.
I love Old Golly's subversive advice to Harriet on how to get out of her predicament.  She tells her to lie.  And I love how, at the end, Harriet finally gets busy at growing up to be the person she wants to be: a writer.  She sees Janie and Sport, her two best friends, from afar, small as dolls.  "Somehow this way she could see them better than she ever had before."  She begins to imagine what it feels like to be them.  "She made herself walk in Sport's shoes, feeling the holes in his socks rub against his ankles."  In other words, she begins to see them as characters she can empathize with, as Fitzhugh does in her portrait of this eleven-year-old spy, so flawed and funny.   What is writing fiction but spying on people, writing down their odd habits, their faults, the crazy things they do?  They just happen to be made-up people.
Anne of Green Gables by Lucy Maude Montgomery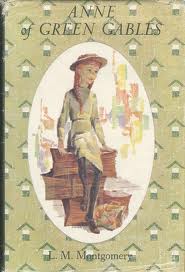 Oh, why did I wait so long to revisit Anne?  How could I have resisted this carrot-braided, chatterboxy, incurably-optimistic, tempermental and romantic delight for so many years?  Close to forty years!  In truth, it was because I worried about ruining the childhood passion I had for her.  Like Harriet M. Welsh, Anne Shirley was one of my biggest influences.  Because of Anne (with an e, please!) I put a priority on the imagination and situations that would enlarge its scope.  The paths in the woods behind my suburban home were all named, like the woods behind Green Gables.  I would accept any dare, like Anne.  Like Anne, I seized life.
But I was afraid my adult self would be too jaded for Anne, that her long, enthusiastic monologues would seem saccharine.
"Oh, Isn't it wonderful?" she said, waving her hand comprehensively at the good world outside.
"It's a big tree," said Marilla, "and it blooms great, but the fruit don't amount to much never – small and wormy."
       "Oh, I don't mean just the tree; of course it's lovely—yes, it's radiantly lovely – it blooms as if it meant it – but I meant everything, the garden and the orchard and the brook and the woods, the whole big dear world.  Don't you feel as if you just loved the world on a morning like this?"
Could I still read this and agree?
What happened was this: a few weeks ago I found myself reading a Very Depressing Book.  It was a book for adults, a Beautiful and Important Book, but very difficult to read because of the horrifying subject matter. At the halfway point, without consciously deciding I needed a break, I just closed the book and said, "It's about time I added a post to Kids' Books I Love/ Books I Loved as a Kid.  I think I'll reread Anne of Green Gables."
I was in desperate need of something life-affirming, even if it was saccharine.
Which, amazingly, it isn't.  Anne of Green Gables is a book of layered delights.  The first layer is the character of orphaned Anne – so utterly lacking in self-pity, chattering her way into Avonlea.  The second layer is the delight of recalled memory, of reliving my childhood delight.  It turns out that I remembered everything.  At the start of every chapter, I would say, "This must be the chapter where Anne breaks the slate over Gilbert Blythe's head," or "This must be the chapter where Anne gets Diana Barry drunk."  Part of the great pleasure was the familiarity, like visiting a favourite childhood haunt.
My new adult perspective adds a further layer.  This reading I was acutely aware of how Marilla and Mathew age throughout the book.  Marilla's headaches get worse and her hair grows greyer.  As a child I was as oblivious to these signs as I was to the aging of the actual adults in my life.  Back then, I did not pick up the subtle references to Matthew's heart condition.  And this time, from the perspective of a parent with a growing child, I felt the bitter sweetness of Anne maturing, the way Marilla does.
While I was reading the book, I met up with fellow children's book author Norma Charles and told her how much I was enjoying Anne.  She said, "And now you get to reread Anne of Avonlea and Anne of the Island, and all the other Anne books."
But I'm not going to rush.  I want to enjoy a little longer the delights of this one.  Eventually I'll have to, though, because it turned out I remembered too much.  "This must be the chapter where Gilbert Blythe dips Anne's braid in ink," I said.  And, "This must be the chapter were Marilla embroiders the tiny pink rosebuds on Anne's green dress."  But these things never happened in Anne of Green Gables.  Now I'm dying of curiosity.  In which instalment of the radiantly lovely, whole big dear world of Anne did these things happen?